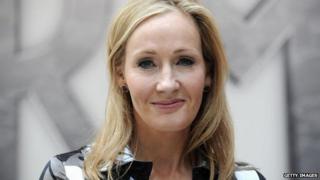 JK Rowling has secretly written a crime novel by pretending to be a new male writer.
The Cuckoo's Calling, a story about a war veteran turned private investigator, has already sold 1,500 copies.
It was written secretly by the Harry Potter author under the false name - Robert Galbraith.
She said she'd hoped to keep the secret a little longer but had enjoyed pretending to be someone else.
You told us what you would do under a secret name.
Your comments
My secret name would be Esme Winters. Esme is one of my favourite names and winter is my favourite season. I would also be an author like JK Rowling.
Grace, Warrington
I would have a boys name so I can then find out what boys really talk about.
Olivia, Surrey
I would be called Olly Perry because my favourite pop stars are Olly Murs and Katy Perry. Under this name I would work as an undercover TV news reporter.
Scott, County Durham
I would be a spy called Scarlet Fox.
Christina, Inverness
I would be called Melody Richards and I would become a secret agent for the MI5
Aimee, London
I would open an ice cream shop and call myself Raspberry Ripple.
Charlotte, Southend
I would be called Emily and would be a trapeze artist.
Eleanor, Stratford-on-Avon
If I had a secret name I would pretend to be a Hollywood movie star. I'd wear sunglasses everywhere so I wasn't recognised.
Sadie, Brampton