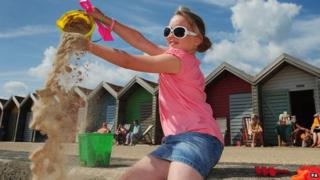 The Met Office has issued heatwave alerts for large parts of England after temperatures reach 30C.
The warnings - the first of the summer - are designed to protect people, such as young children, the elderly and those who are unwell, from the effects of hot weather.
So, if you are going outside to play don't forget to splash on the sun cream and wear a hat.
We asked you to tell us what you were getting up to in the sun today?
Your comments
It is so hot that me and my friends have decided to go ice skating.
Holly, England
I went outside and it was so hot that my ice cream melted in to a puddle.
Kay, Oldham
Today I'm going swimming with my mates. I might have hay fever but that isn't going to stop me having fun. My only problem is I have to clean up my bedroom first!
Yasmine, Dagenham
I'm having my birthday party and the hot weather is going to make it awesome!
Ines, England
Me and my family are going to a big field to have a picnic. Later on we're watching an air show.
Jessica, Yeovil
I'm having a great time in the sun, I'm going to play in the garden and try and get my dad wet with the hose.
Agnes, England
I love the hot weather because it is awesome.
Kane, Peterborough
I'm enjoying the sun with a little splash in my swimming pool!
Sophie, Hertfordshire
I'm going swimming with my friends and then having a family BBQ.
Esme, Wolverhampton
I'm staying at home and having a water fight with my friends.
Will, Sheffield
I'm not in the sun today because I had a school play yesterday and fell off the stage and hurt my foot.
Olivia, Wales
Where we live is boiling - it is so hot that I have two ice creams a day.
Rana, Glasgow
We're going to have super fun today - the sun is shining bright and the mayor's show is on.
Mathusa, London
I have my party today which is watching a movie then going down to the park. We are going to be stuffed.
Theo, Reading