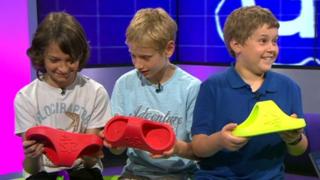 Newsround inventions competition winners
Oscar, Matthew and Ben, the inventors of the "twoes" - shoes you can wear any way around you like - are the winners of our inventions competition, You Too Can Be An Absolute Genius.
They came into the Newsround studio to chat to Ore about how they got through the gruelling judging process.
And they were presented with professionally-made versions of their winning idea!