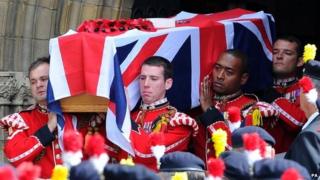 The prime minister and thousands of mourners have attended the military funeral of Fusilier Lee Rigby at a church in Greater Manchester.
The 25-year-old soldier, from Middleton, was attacked and killed in Woolwich, south-east London, in May.
The soldier's family were greeted by applause as they arrived with his son wearing a T-shirt showing the words 'My Daddy My Hero'.
They thanked people "across the world" for their "overwhelming support".
What to do if the news upsets you
Fusilier Rigby's wife Rebecca said: "There are so many kind and generous people out there.
"It's just horrible that it takes something such as this to make you see how many good people there are."
It is believed that the attack was motivated by Islamic extremism and last month David Cameron said he would set up a group of experts to try to tackle the problem.
'Fantastic soldier'
Among those gathered outside the church were hundreds of serving and former soldiers in their regimental ties, blazers and caps, wearing their campaign medals.
Inside the church, Fusilier Rigby was described as a "fantastic soldier" by his commanding officer.
He continued that the soldier was "always at the centre of fun and mischief, but he was a true regimental character with real charisma and everybody fell under his spell".