Dinosaurs are being discovered all the time, and have even been found by kids, but how do you go about finding a fossil?
They are often found on the coast where waves eat away the land, exposing layers of ancient stone.
It is quite hard to tell the difference between a stone and fossilised bone but real bones will have a patterned inside.
Martin has been to the Isle of Wight to find out how you can get involved.
Where to go
So if you fancy a go here are some of the top places in the UK to go and find a fossil.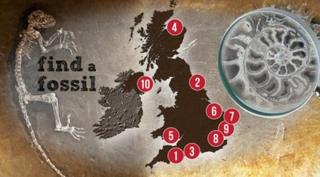 Have a look at the map to find a place near you and maybe you could start your own fossil collection this summer.
1)Jurassic Coast, Dorset to East Devon
2)Robin Hood's Bay, North Yorkshire
3)Bracklesham Bay, West Sussex
4)Helmsdale, Sutherland
5)Llantwit Major, Vale of Glamorgan
6)Hunstanton, The Wash, Norfolk
7)Pakefield, Suffolk
8)Isle of Sheppey, Kent
9)Walton-on-the-Naze, Essex
10)Antrim coast, Northern Ireland