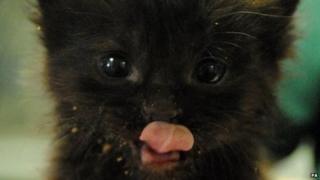 A kitten has been found in a box on a London Underground train. The tiny female cat is thought to be just four weeks old.
She was handed in to staff at a lost property office, and they passed her on to an animal charity to be cared for.
Animal workers have called her Victoria after the name of the station where she was handed in.
The kitten is so young, staff at Blue Cross animal charity are hand-feeding her.
A spokesman for the charity, based near to Victoria station, said: "It is a mystery as to why she was left on her own, without her mum or possible littermates."
"Little Victoria is certainly one of the most unusual items of lost property handed in to London Underground."