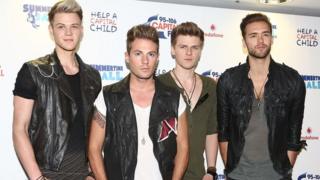 Newsround have got a date with Lawson and we want you to help us interview them.
The band only released their first single last year and have already had three top five hits and a top ten debut album.
So, if you've got a question for Joel, Adam, Ryan and Andy we want to hear from you.
Leave us your questions and we'll ask the boys as many as we can.
Your Questions
"When do you think you guys will release your next album? I'll be the first in the queue to get it!"
Lauren, Cambridge
"Hey, I'm Holly and I am a mega Lawson goose! My question is: When you write a song, where do you start? With the melody, words or chords?"
Holly, Hastings
"Hi Lawson, my question is, what was your reaction when Andy Murray won Wimbledon?"
Emily, Daventry
"The Wanted or One Direction?"
Emily, Corby
"I love you guys, if you could have a pet what will it be?"
Rachel, England
"What is your favourite song?"
Holly, Wimbledon
"Did you like singing when you were little."
Najib, London
"Who is your inspiration?"
Jac, Peterborough, UK
"Who is the cleverest in the group?"
Emma, Bolton
"Why the name Lawson? Any special meaning for all of you?"
J, Dubai, UAE
"If you were one of the other band members for a day, who would you be and why?"
Emma, Bourne
"You are my favourite band of all time but one thing I don't know about you is who is your biggest rival band?"
Alice, Huddersfield
"What is your favourite song you have written and performed?"
Bessie, Brentwood
"Have you ever wanted to be anything else apart from a boyband?"
Chloe, Sunderland
"Andy how do you get your hair like that?"
Ewan, Ayrshire, Scotland
"Many bands feel they don't like the idea of their fans at a concert taking pictures and videos of them, How to you feel when a fan does this at your concert?"
Krupa, London
"How much fun was it filming the broken hearted music video? I can't stop watching it!"
Izzy, Aylesbury
"What was your most embarrassing moment?"
Amber, Stamford, Lincolnshire
"What inspired you to become a boy band?"
Chloe, Sheffield, South Yorkshire
Send us your questions for Lawson
You must ask your parent, teacher or guardian for permission before you send us a comment.
We may show your comment on this page or in our bulletins on the CBBC channel. We'll show your first name and which town you're from - but we won't use your details for anything else.