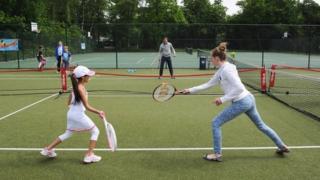 Are there enough places to play tennis?
Loads of you have told Newsround you've been inspired by Andy Murray's amazing Wimbledon victory.
On Monday the tennis ace said for more kids to be able to get into the sport, more needs to be done to help them to get access to the right places.
He said he wants extra courts in schools and wants to see a higher number of people playing at a younger age.
He told journalists: "I hope more kids start playing tennis but for that to happen there needs to be all the right facilities."
Check out the report to find out more...