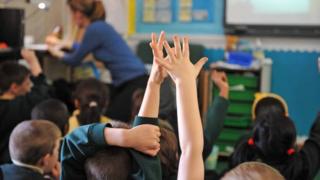 A new curriculum which tells schools in England what they should teach could make some lessons tougher.
Five year olds will have to learn fractions and nine year olds will be expected to know their twelve times table, it was announced today.
The government wants to make changes to what pupils aged between five and fourteen have to learn.
It hopes the new curriculum will help English pupils keep up with pupil achievement in other countries.
Plans include more essay writing, problem solving, maths and computer programming.
Prime Minister David Cameron said: "This is a curriculum that is rigorous, engaging and tough".
However, not everyone agrees with it.
Teachers unions have warned that the changes are coming in too quickly.
The new curriculum, which is supposed to be in place by autumn 2014, won't apply to every school in England. Academies and independent schools will not have to follow it.