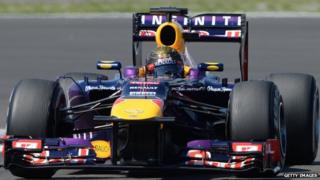 Sebastian Vettel battled through to triumph in the German Grand Prix, his first win in his home race.
But the British drivers couldn't keep up - Mercedes' Lewis Hamilton faded from pole position to finish fifth.
He passed fellow Brit McLaren's Jenson Button on the last lap, leaving Jenson to finish sixth.
Sebastian grabbed his win with Lotus's Kimi Raikkonen and Romain Grosjean close behind.
Speaking about the match, Sebastian said: "Unbelievable, I'm very happy."
"I was pushing really hard throughout and very happy to finally win in Germany.