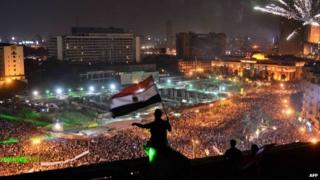 At least 51 people have been killed in a shooting incident in Egypt.
They are the latest deaths after more than a week of violence across the country.
It's after President Mohammed Morsi was kicked out of his job earlier this week.
There had been huge protests against the way he was running the country so the army stepped in and forced him to quit.
Lots of people still support him though and there has been fighting between people who want him back in power and those who are glad he was pushed out.
The latest shootings happened in the capital city Cairo.
Supporters of Mohammed Morsi, from a movement called the Muslim Brotherhood, said its members were fired on as they held a sit-in protest outside a barracks where they believe the president was being held.
However, the army said the shootings happened after a "terrorist group" tried to get into the barracks.
Dozens of people have been killed since the violence began earlier this month.