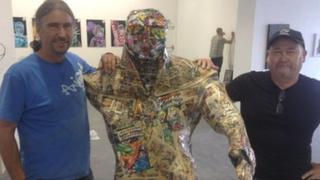 An artist who made a papier-mache sculpture from comics he found in a skip has found they could have been sold for about £20,000.
Comic fan Steve Eyre told artist Andrew Vickers the pages pasted to a leg were from a first edition of The Avengers.
Mr Eyre said the rare comics used to create the artwork were worth thousands of pounds.
The artist was not too upset though and thought it was funny.
Artist Mr Vickers said:
"If somebody chucks things out in the skip they don't generally throw things out that are worth anything."
"To be honest I'm shocked but money has not got such a value to me. I think it is funny."