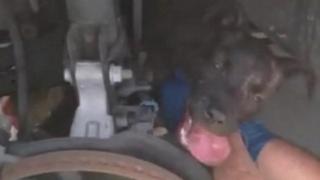 Stuck puppy rescued from car engine
A lucky puppy has been rescued from being trapped in a car engine in America.
A couple in South Florida were shocked to find a puppy stuck in the engine of their car.
The dog could have been in the engine for up to 10 miles before the car's owners noticed there was something wrong and stopped to investigate.
The emergency services were able to pull the dog out without hurting it.
No one knows how the dog got in there or how long it had been there.
See the puppy being rescued.