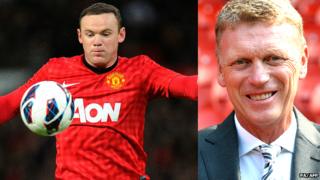 New Manchester United boss David Moyes says Wayne Rooney won't be sold, following months of discussion about whether he will leave the club.
Moyes gave his first public speech at Old Trafford today and when asked about Rooney's future, he said: "Wayne Rooney is not for sale.
He's a Manchester United player and will remain a Manchester United player. Wayne won't be sold by Manchester United."
He added: "We are working together now. I have seen a glint in his eye, he looks happy and looks as if he is going to knuckle down."
Rumours about Rooney leaving began when Alex Ferguson was still in charge at Man U, after Fergie revealed that Rooney had asked if he could leave.
Moyes took over from Alex Ferguson, who has now retired, at the start of July.