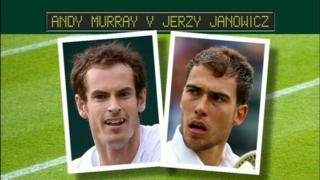 Murray versus Janowicz comparison
Andy Murray faces Polish player Jerzy Janowicz at the Wimbledon semi-final later.
It's a high pressure match for Murray who will be hoping that this year he can finally win the British Grand Slam.
Murray is ranked the second best player in the world at the moment and Janowicz is 24th but that doesn't necessarily mean it will be easy for Murray to win. Janowicz has a fast, powerful serve and is taller than Murray.
Here's how the two players stack up against each other.