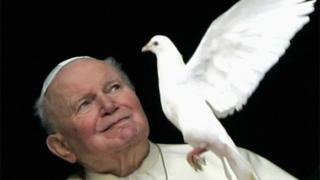 Pope John Paul II is to be made a saint by the Vatican.
The Polish-born pope led the Roman Catholic Church from 1978 until his death in 2005.
The process to become a saint is really long and complicated but the person has to be dead, have lived a good life dedicated to their faith and have two or more miracles associated with them.
Catholics believe in miracles like people being cured of diseases with no medical explanation.
They believe that even if someone has died they listen to people's prayers and can ask God to help others.
Once a person is announced as a saint there is a special ceremony where their name is added to the list of other saints.
Once this has happened churches can be built in their honour and a saints day is given to them.