Prince Charles and the Duchess of Cornwall went deep inside the Tardis with the doctor and his sidekick during a visit to the studios in Wales.
Time Lord actor Matt Smith and his co-star Jenna-Louise Coleman were on hand to make sure they didn't zoom off into another time!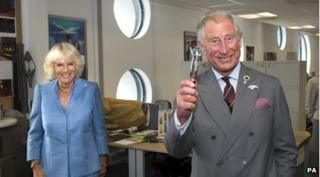 PA
Camilla had a go at flying the Tardis while Charles got to grips with the sonic screwdriver before doing a very convincing impression of a dalek.
So, will we be seeing the Prince join forces with the doctor on our screens?
Writer Stephen Moffat said: "There would be a part in the show for him if he wanted it."