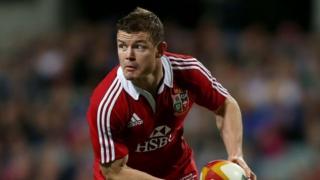 Former Lions captain Brian O'Driscoll has been dropped from the Lions squad and Alun Wyn Jones has been made captain.
Coach Warren Gatland shocked rugby fans with the decision to drop O'Driscoll ahead of the third test match against Australia.
Gatland said: "Picking this team was not easy and ultimately with several players available after recovering from injury the head overruled the heart in many selection decisions.
"Brian O'Driscoll is a great player and has had a wonderful career but for the final test in Sydney, we just felt Jamie Roberts' presence offered us something more".
On Twitter O'Driscoll said: "Obviously totally gutted at being left out for deciding Test but all efforts go into preparing the boys to see it through."
He had been the favourite to replace Sam Warburton who can't play because he is injured.