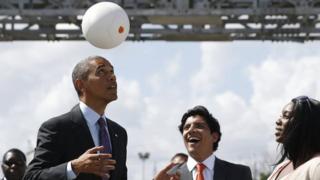 Obama plays footie with energy ball
American president, Barack Obama, has been playing footie with a special energy generating ball.
He's been touring some countries in Africa, and whilst in Tanzania he had a kickabout with the "socketball".
It converts the energy from when it moves around into stored electrical energy.
It was designed by students at America's Harvard University and just half an hour's play is reported to be enough to provide hours of light.
Check out the clip...