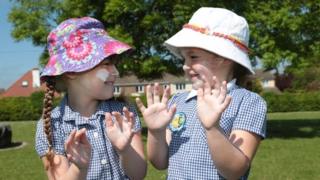 Weather experts say a hot summer is on the way, with some areas of the UK reaching temperatures of 30 degrees.
The hottest day so far this year was on Sunday 30 June, and that was recorded as 27.2 degrees Celsius (81F) in Heathrow, London.
Experts from the Met office, who forecast weather for the UK and the rest of the world, said they think temperatures will get much higher throughout July.
They say it looks like it will be a much warmer July than average, and compared to last year it will definitely be much drier.
The summer of 2012 was the wettest on record, and Spring this year was the coldest since 1962.
Don't forget to wear your sun lotion!