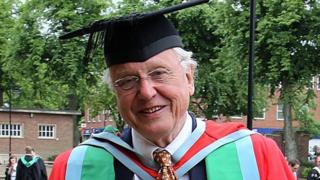 Wildlife expert Sir David Attenborough has been given an honorary degree from Queen's University in Belfast, adding to the huge list he already has.
You don't study for honorary degrees, but they're awarded by universities to recognise the work people have done.
Sir David, 87, was given this one for his services to science and broadcasting.
It's reported that it's actually the natural history film-maker's 32nd honorary degree!
But he's staying modest and when asked about how many he had he cleverly avoided answering.
He just smiled and said "it was rude to count."