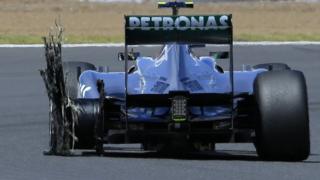 Six Formula 1 drivers had tyre failures during the British Grand Prix held at Silverstone at the weekend, including Lewis Hamilton who lost out on his place in the lead because of a puncture.
This has made many people in the industry call for an investigation into why it happened.
All the failures happened at more than 100mph - and some of them at nearly 200mph.
Luckily none of the drivers were injured, but there are fears for the drivers as punctures can cause them to spin out of control.
Why did it happen?
Formula 1's tyre supplier Pirelli and the sport's governing body the FIA have launched an investigation into what caused the high numbers of failures at Silverstone.
It's thought the tyres could have been damaged by the edges of kerbs on the corners of the track, which racing drivers cut across to make the fastest lap time.
But some people argue that drivers have raced on these tracks for many years and this high number of failures has not happened before.
One of the reasons could be how the tyres are made.
How are F1 tyres made?
Formula 1 bosses ask Pirelli to make the tyres soft enough to make sure there are at least two pit-stops in a race.
The two F1 types are called 'prime' and 'option', but each can be any one of the four different tyres - 'super-soft', 'soft', 'medium' and 'hard'.
The reason there are different types to choose from is so teams can pick tyres suited to the different tracks.
The softer the tyre, the faster it goes - but, this of course means it wears out much quicker too.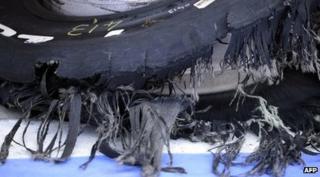 Which tyre to choose?
So the Spanish Grand Prix, for example, is held on a track that has a rough surface, and it has a lot of high-speed corners that put a lot of strain on the tyres.
So teams would use the medium and hard tyres there.
The track at Monaco lacks grip and generally has short, slow corners so it's much easier on the tyre, so the teams can use soft and super-soft.
At Silverstone teams generally use the hard tyres because it is a fast track.
So, are the tyres too soft?
Many people, including Lewis Hamilton, who spoke out about it in an interview, think the way the tyres are made has to change.
Some argue that the tyres are made far too soft, which makes it too dangerous for drivers.
F1 Bosses all agree though, that a solution is needed as soon as possible, though with the next race taking place in Germany this weekend change might not come fast enough.