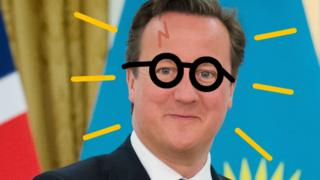 David Cameron has said he would like to be Harry Potter!
The Prime Minister admitted he would choose to be the boy wizard, if he had to pick which character he would be from the series by author JK Rowling.
Mr Cameron was asked the question by students at a university in Kazakhstan.
He was at Nazarbayev University in the country's capital Astana to give a talk.
He said: "My daughter is nine years old, she's just started to read all the Harry Potter books so I'm sort of rediscovering them all over again.
"I can think of all sorts of characters you don't want to be and I suppose in the end you know if you've got any sense you want to be Harry Potter. That must be the correct answer."
Telling off
Mr Cameron also told students at the question and answer session that he still gets told off by his former teachers.
He said that some former university tutors still write to him telling him off for mistakes in running the country.
Mr Cameron, who studied politics, philosophy and economics at the University of Oxford said: "I was very lucky to have some very good tutors.
"In fact some of them still write me letters, often telling me that what I am doing is not a good idea but every now and again saying well done.
"They keep in touch, I think they still feel they are training me even now."
Missing Mrs Cameron
Mr Cameron also told students he missed his wife Samantha Cameron 'desperately' when he was away working.
When a student asked him which day he would most like to relive, Mr Cameron said his wedding day.
He is the first serving British prime minister to visit Kazakhstan the oil-rich nation, and the purpose of his visit is to set up trade links between businesses in the UK and those in the oil-rich nation.