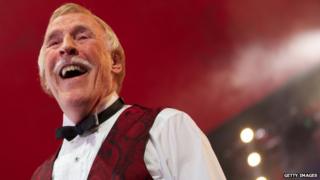 The last day of Glastonbury saw huge crowds gather for Mumford and Sons and for... Sir Bruce Forsyth!?
The 85-year-old Strictly Come Dancing presenter was a surprise hit at the annual music festival in Somerset.
He attracted such a huge audience that security officials had to prevent any more people getting in.
It was the first time he'd performed there and he said it was one of the biggest and best shows of his life.
It's thought 2,500 people watched him sing, tap dance and play the piano.
"I haven't experienced anything like that," said Brucie, "that was more than good, it was over the top."