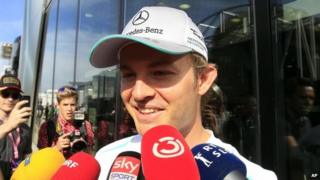 Mercedes' Nico Rosberg won the British Grand Prix, in a race that was overshadowed by a series of tyre failures.
The race had two safety car interventions and tyre failures on six cars, including that of Nico's teammate, Britain's Lewis Hamilton.
Lewis dropped to last with the tyre failure, but fought through to finish fourth.
There have now been 20 tyre failures so far this season.
"It definitely needs to be looked into," Nico said on the topic, "because there were too many today."