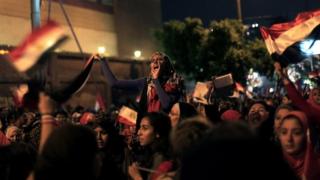 Thousands protest in Egypt against president
Huge protests have taken place through the night across Egypt calling for the country's president, Mohammed Morsi, to resign.
Tens of thousands of protestors were on the streets of the capital Cairo and crowds in the city's Tahrir Square were the biggest since the revolution in Egypt in 2011.
At least one person was killed in Cairo and four died in clashes in other parts of the country.
Officials say more than 200 people across Egypt have been injured.
Mohammed Morsi was elected one year ago but people are unhappy about the way he's running things.
A lack of jobs, as well as fears over his religious and political views, have caused the demonstrations.