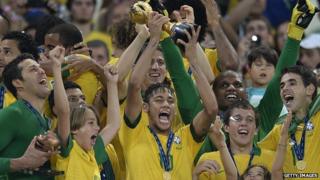 Brazil have beaten world and European champions Spain 3-0 to grab their third Confederations Cup title in a row.
The final took place in Rio de Janeiro, Brazil, with a passionate home crowd cheering the team on. Fred scored two goals and Neymar scored once.
But it wasn't all celebrations - there were clashes between police and protestors near the football stadium.
The protests started nearly a month ago, sparked by bus fare rises.
Protestors are unhappy over the costs of Brazil hosting the FIFA World Cup next year as well as wanting better healthcare, education and transport in the country.