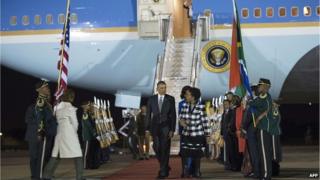 US President Barack Obama will meet the family of Nelson Mandela, the White House has confirmed.
The president is in South Africa on a trip, where he's holding talks with South African president, Jacob Zuma.
White House officials confirmed that Obama will not visit Nelson Mandela himself, who is in a critical condition in hospital.
The US president has described Mr Mandela as a "hero for the world".