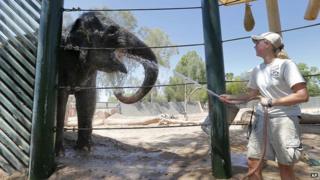 Western states in the US are being gripped by a heat wave that could break the mark for the highest temperatures ever recorded on earth.
In Arizona, the temperature hit 47C on Friday and in the desert of Death Valley, California, there were highs of 51C.
It was in the Californian desert where the hottest air temperature of 57C was recorded almost 100 years ago.
The heat has stopped some planes taking off and even melted tarmac.
The extreme weather is expected to last across the weekend.
The National Weather Service has issued a heat warning for several western states, including Las Vegas.
To help people deal with the heat, special cooling centres have been set up, whilst zookeepers at Phoenix Zoo are keeping outdoor animals chilled with water hoses.