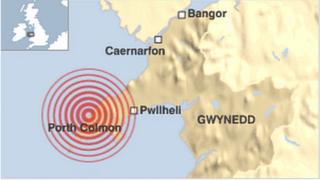 A small earthquake of 2.8 magnitude hit north Wales on Wednesday night.
The British Geological Survey - who monitor quakes in the UK - say the tremor happened five miles underground and was centred on the Lleyn peninsula, Gwynedd, though it was felt throughout north Gwynedd area.
It measured 2.8 on the scale of magnitude, which is used to measure how strong smaller earthquakes are, and is the second small earthquake to affect the area in just a few weeks.
The last one was stronger at 3.8 in magnitude.
Julian Bukits, of the British Geological Survey, said north Wales was one of the more seismically active areas of the UK.
"It's always been active. It's no more active than it was 100 years ago or 1,000 years ago," he said.
Learn why earthquakes happen in our special Newsround guide.