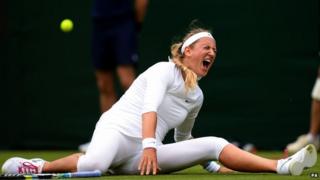 Seven players were forced to withdraw from Wimbledon on Wednesday because of injury.
Women's second seed Victoria Azarenka and men's sixth seed Jo-Wilfried Tsonga were two of the big names forced to pull out.
Azarenka had a nasty fall in her first round match on Monday and suggested afterwards that the court was more slippy than previous years.
There was more drama on Court two with women's ninth seed Caroline Wozniacki and 2004 champion Maria Sharapova both slipping on the grass in their matches. They were forced to take an injury time out, before both going on to be beaten.
Wimbledon denies grass is to blame
Wimbledon boss Richard Lewis responded to the suggestions the grass was to blame, saying: "There has been a high number of withdrawals at The Championships today and we sympathise with all the players affected. The withdrawals have occurred for a variety of reasons, but there has been some suggestion that the court surface is to blame. We have no reason to think this is the case. Indeed, many players have complimented us on the very good condition of the courts.
"The court preparation has been to exactly the same meticulous standard as in previous years and it is well known that grass surfaces tend to be more lush at the start of an event. The factual evidence, which is independently checked, is that the courts are almost identical to last year, as dry and firm as they should be, and we expect them to continue to play to their usual high quality."
Player withdrawals
Victoria Azarenka - knee injury
Steve Darcis - shoulder injury
John Isner - left knee injury
Radek Stepanek - hamstring injury
Marin Cilic - left knee injury
Yaroslava Shvedova - right arm injury
Jo-Wilfried Tsonga - left knee injury
The seven withdrawals are the most Wimbledon has ever experienced in the second round of the competition's history.