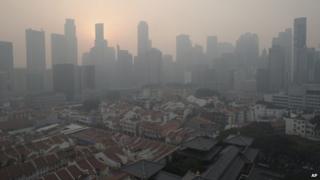 The president of Indonesia has said sorry to Singapore for causing the thick smog which has blanketed the city.
The smoky fog, which has been caused by farmers illegally burning crops on the Indonesian island of Sumatra, has been causing big problems for people living in Singapore and nearby Malaysia.
Thousands of emergency workers have been sent to tackle the fires, which have been spreading.
Some schools and businesses have closed in Singapore and Malaysia after fears the smog could be harmful to peoples health.
The president said; "I apologise for what has happened and ask for the understanding of the people of Malaysia and Singapore,
"We accept it is our responsibility to tackle the problem."
Smog from Sumatra is normally a problem in the area at this time of year but this is the worst anyone has seen in 15 years.