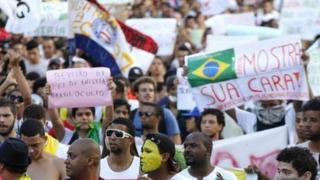 Brazil's president promises changes
Brazil's president Dilma Rousseff has promised to make changes to how the country is run, following a week of massive protests.
The protests, which are described as the biggest in Brazil for over 20 years, started last week over plans to increase bus and underground fares.
The fare increases were then dropped, but the demonstrations grew and spread to other areas.
At one stage reports said there were more than a million people taking part in protests in different cities across the country.
Campaigners said they were showing their unhappiness over how the country is run and the high spending on Brazil hosting the 2014 World Cup and 2016 Olympics.