Brazil's president Dilma Rousseff has promised to make changes to how the country is run, following a week of massive protests.
The protests, which are described as the biggest in Brazil for over 20 years, started last week over plans to increase bus and underground fares.
The fare increases were then dropped, but the demonstrations grew and spread to other areas.
At one stage reports said there were more than a million people taking part in protests in different cities across the country.
Campaigners said they were showing their unhappiness over how the country is run and the high spending on Brazil hosting the 2014 World Cup and 2016 Olympics.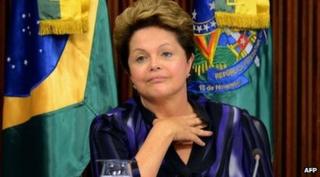 AFP
Five pacts
Ms Rousseff says she will increase the amount of money the government spends on public transport, and hopes to improve health and education too.
She announced 'five pacts' she will make to improve life in the country, which are:
Improve the economy and reduce the cost of living

Invest more money in education

Hire foreign doctors to work in remote areas

Make a special assembly - group of ministers - that will review Brazil's laws

Spend more on public transport
In a TV news conference Ms Rousseff said: "My government is listening to democratic voices... Brazil is ready to move forward and has made it clear it does not want to stand where it is."