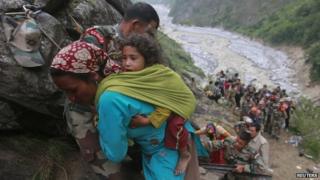 Thousands of children are at risk of disease after huge floods hit parts of northern India, according to Save the Children.
The charity are warning that thousands of people are still stranded in the mountains without access to clean water or medicines.
Ten days after the heavy rains first hit the state of Uttarakhand officials are worried that they are running out of time to get to survivors.
So far over 80,000 people have been rescued but bad weather and landslides are making it hard for the Indian army to get to everyone in need.
More than 600 people are now known to have died but officials fear the final number could be nearer to 1000.
Early monsoon rains in India this year are believed to be the heaviest in 80 years.