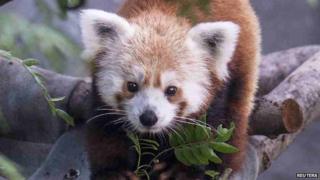 A red panda missing from an American zoo has been found after going on the run.
The little creature named Rusty had last been seen at 6pm on Sunday evening. A search was then launched on Monday morning.
The US National Zoo in Washington DC, where Rusty lives, said he was found in a residential area about a mile away from the zoo.
He was spotted by followers of the zoo's Twitter feeds.
He's now returned to the zoo, but staff are still unsure how he escaped in the first place!
Unlike giant pandas, red pandas are not part of the bear family and are only slightly larger than cats.
Red pandas are native to the Himalaya mountains and parts of southern China.