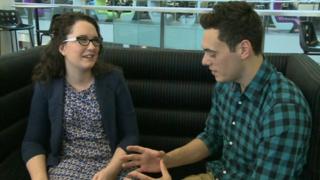 The Voice's Andrea Begley chats to Newsround
It's been a whirlwind few days for The Voice winner, Andrea Begley, but she's taken some time out to have a natter with Newsround.
The 27-year-old from County Tyrone, Northern Ireland, won this year's contest on Saturday.
Since then has been busy with lots of interviews and trying to let it all sink in.
Andrea's been chatting to Joe about working on her first album and the pressure that comes with the job.
Check out the clip to see what she said!