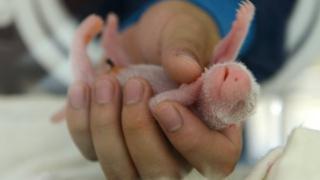 Giant panda twins born in China
A giant panda has given birth to twins, thought to be the first pair of the endangered species to be born in the world this year.
The tiny creatures were born in a conservation centre in southwest China just ten minutes apart.
One of the cubs is female and weighs about 80 grams, which is less than an average smartphone.
The centre hasn't been able to tell the public about the second cub because its mother hasn't released it from her embrace.
There are an estimated 1,600 pandas living in the wild in China.
And around 300 live in captivity in the world, mostly in China's breeding programmes.
Check out the clip to see the tiny twins...