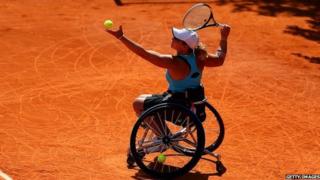 Meet the wheelchair tennis stars
Wimbledon kicks off this week with the world's greatest tennis players taking centre stage in London.
As well as players like Andy Murray, Rafa Nadal, Maria Sharapova and Serena Williams, the stars of wheelchair tennis will be competing too.
Almost a year on from the Paralympics, wheelchair tennis could draw a bigger crowd than ever before.
Martin's been to meet Lucy Shuker, Britain's highest ranking female wheelchair tennis player.
He also speaks to 12-year-old rising star, Esperanza.