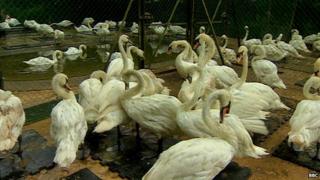 More than 150 swans had to be rescued from the River Thames following an oil spill on Friday.
The Environment Agency suspects it was caused by oil illegally dumped into drains.
Volunteers have been working over the weekend to remove the birds from the river and clean them with washing-up liquid.
Wendy Hermon, from the Swan Lifeline charity said it was "one of the worst oil spills" she had seen.
Doug Hill, from the Environment Agency said: "We've been working over the weekend to try and locate the source of this pollution.
"We suspect it is engine oil from the smell and look of it as well as what's been cleaned off the swans who were rescued."