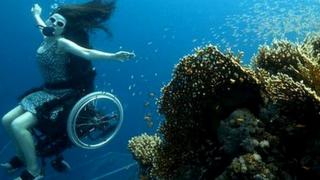 World's first scuba wheelchair
Artist Sue Austin has become the first person to dive beneath the sea in a self-propelled wheelchair which she designed herself.
Sue developed the chair with help from dive experts and academics.
It works by using a propeller to move the chair and fins at the backs of her legs steer below water.
Sue has been a wheelchair user for 16 years and first had the idea after learning to scuba dive.
Ore has been to meet her and hear all about her underwater adventures.