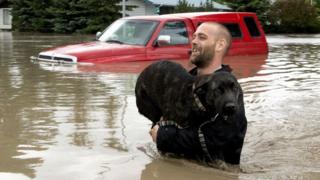 At least three people have been killed and more than a 100,000 have been forced to leave their homes as floods hit western Canada.
Both rivers flowing through Calgary, in Alberta, burst their banks after torrential rain.
The Bow and Elbow swept away roads and bridges in their path.
The flooding has forced the evacuation of the whole of central Calgary with large areas of the city under water.
Officials said lions and tigers from the Calgary Zoo may need to be moved to prison cells if the zoo becomes flooded.
Resident Wade Graham described seeing other people's belongings floating in the floodwater.
He said: "I watched a refrigerator go by. I watched a shed go by. I watched couches go by. It's insane."