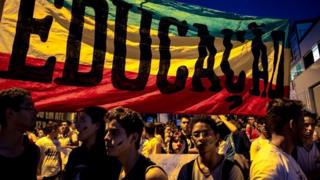 Brazilian President Dilma Rousseff has announced changes to the way the country is run in an attempt to end days of anti-government protests.
The president promised to improve public transport and health services in a speech broadcast on Brazilian television and radio.
The protests began after bus and subway fares were increased in Sao Paulo.
But they quickly spread across Brazil.
The demonstrators were angry about the amount of money spent by the government on the 2014 World cup and 2016 Olympics.
Many say the money should be used to improve public services like hospitals and roads.
On Thursday night more than a million people took to the streets and there was violence in various cities in which dozens were injured and two people died.