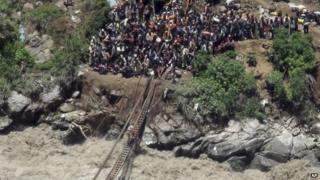 A major rescue operation in India to try and save thousands of people stranded by floods is being stepped up.
Officials say more than 40,000 people are stuck in the northern state of Uttarakhand, after floods swept away buildings and triggered landslides.
Rescue teams have already helped more than 33,000 people, but more than 600 have died.
The army is evacuating survivors in mountainous areas by helicopter and on special trains.
Many of those stranded are Hindu pilgrims visiting local shrines.
It's OK to be upset by the news
The worst affected area is around the holy town of Kedarnarth.
The Indian Army is leading rescue efforts. The authorities say troops have yet to reach some remote mountain areas.
The country is currently in its annual monsoon season, which usually lasts from June to September.