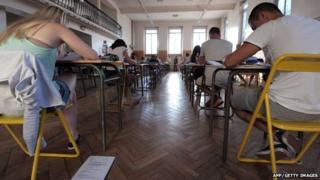 A mother in France has reportedly been caught trying to take an exam for her teenage daughter!
The 52-year-old turned up to the English exam disguised in Converse trainers and skinny jeans, and wearing loads of make-up.
But the imposter was spotted by an invigilator who'd overseen an exam the real daughter sat earlier in the week.
Police were called to the Paris school and the mum was asked to leave.
Adults take the baccalaureate exams (similar to A Levels) as well as teenagers, so it wasn't unusual to see an older student.
The mother could be charged with fraud and the daughter could be banned from taking exams for up to five years.