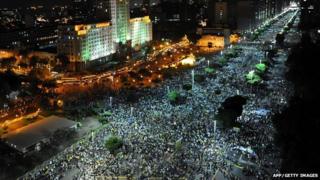 More than a million people are reported to have taken part in new protests in around 100 cities across Brazil.
It's the biggest of the anti-government demonstrations since they began more than a week ago.
In Rio de Janeiro, riot police fired tear gas and rubber bullets at groups of masked men trying to get close to the City Hall.
Brazil's president Dilma Rousseff has called an emergency meeting with her government to discuss the crisis.
In Sao Paulo state, a man died after a car drove through a barricade.
Demonstrators attacked government buildings in the capital Brasilia - a small fire was started at the entrance to the foreign ministry.
The protests first began because of transport ticket prices going up - a reversal failed to stop the protests on Wednesday.
But it's widened to other issues now, with people showing their unhappiness over how the country is run and the high spending on Brazil hosting the 2014 World Cup and 2016 Olympics.