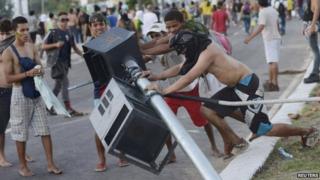 Brazil protests despite fare U-turn
There have been more protests in Brazil, despite officials reversing public transport fare increases.
Crowds blocked main roads in Sao Paulo and Brasilia on Wednesday, and protesters went head-to-head with police in Rio de Janeiro.
There were also clashes in Fortaleza, where Brazil's football team played Mexico in the Confederations Cup.
Ticket price rises on the buses and metro sparked widespread demonstrations more than a week ago.
Many people are angry at corruption and high spending on next year's World Cup.
"It's not really about the price [of transport] anymore," said 18-year-old student Camila Sena at a protest in Rio de Janeiro's sister city of Niteroi.
"People are so disgusted with the system, so fed up that now we're demanding change."
Activists are planning the biggest protests yet on Thursday.