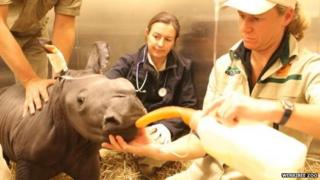 The Werribee Zoo in Melbourne has a new addition - Pepper the baby white rhino.
Staff there are delighted because white rhinos are a critically endangered species, with more deaths from poaching than births last year.
White rhino horn is in great demand in China and south-east Asia, where some people use them as medicine.
"We are very happy with her progress and she is showing all the signs of being a healthy rhino," said Zoo Director, Sally Lewis.
The baby will have 24-hour care at the zoo's animal hospital and is likely to be introduced to the rest of the herd when she's six weeks old.