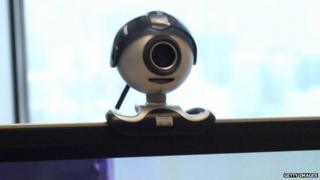 There's a warning to cover up and disconnect webcams when they're not being used - because hackers could be spying with them.
Childnet International also advises people not to leave webcams in bedrooms or other private areas.
An investigation by BBC Radio 5 live found websites exchanging pictures and videos taken from webcams without owners knowing.
Police have said that webcam hackers will be prosecuted.
Hackers can get access to computers by using a piece of malicious software (malware) called a remote access Trojan (RAT).
The investigation also found evidence of hackers selling access to victims' computers for small amounts of money.
But some experts have said that this problem isn't widespread - and anti-virus software is able to stop webcam hackers.