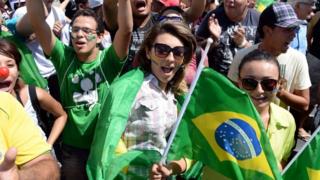 BBC's Julia Carneiro explains how Brazil's protests have spread
Brazil's government says it will deploy a national security force to tackle protests across the country.
Almost 250,000 people have filled the streets of Brazil's cities protesting about the cost of living, and what they see as money wasted on the World Cup.
Demonstrators are also angry at the corruption they say is in the country.
Last night in Sao Paulo, a TV satellite truck was set on fire and police were forced to hide in the mayor's office after coming under attack.
The Brazilian government will send the national force to five cities: Rio de Janeiro, Belo Horizonte, Salvador, Fortaleza and the capital, Brasilia.